STOLEN PRINCESS (Book 1)
She sacrificed herself to save her family from poverty…
It wasn't enough to kill my mate, heir to the throne. My obsessive Fae brother-in-law wants the crown. And he wants me ruling by his side.
I thought I was done with romance until a certain pompous elf reappeared in my life at the illustrious Monster Ball. A little teasing over a board game led to bruised lips and captured hearts. No one wants Jhaeros and me to be together, not even my favorite sister, Melarue. She thinks he's a drag. But she's a teenager just coming into her elemental powers and discovering boys—the wrong kind—the type I want to shoot arrows through.
My royal in-laws are playing a treacherous game, and my brother-in-law is determined to get what he wants. But this princess no longer has a master. I don't want a crown. I want freedom, family, and the love of a lifetime. But love might be the one thing that destroys us all.
Amazon US | Amazon INT | Goodreads
Now in audiobook.
Audiobook: Apple | Google Play | scribd
Audible US | UK | DE | FR | Amazon US | Amazon INT
---
FALSE QUEEN (Book 2)
He gave her his loyalty. Will he give her his heart?
Aerith, Melarue, and Hensley ALL return in the exciting follow-up to Stolen Princess.
I married a murderer.
A Fae king who claimed me to punish his family.
My in-laws may be beautiful and cruel, but their cousins are far worse. The vile tyrants would bury us all with a laugh and a smile if it meant taking Liri's kingdom from him. They refuse to accept a human as Queen of Dahlquist. They want me gone.
When things turn perilous, who does Liri turn to? "Sweet Aerith", of course.
I love my elven sister-in-law, but I'm afraid Liri still does, too.
More than my heart is at stake. The entire kingdom is at risk of falling into treacherous hands. My soul is another matter. When a malevolent enchantment is placed, only one thing can save me… True love.
Shocking family secrets will be revealed. Aerith, Mel, Jhaeros, and Devdan kick butt like never before.
Amazon US | Amazon INT | Goodreads
Audiobook: Apple | Google Play | scribd
---
THREE KINGS (Book 3)
Life will never be the same for Melarue Heiris.
Two Fae princes vie for her affection, and her sister doesn't like it one bit. But this isn't Aerith's story. Sure, Mel might have gotten herself into a pickle, but she's got everything under control … kinda. Not. Next thing she knows, she's being threatened with marriage, gowns, and worst of all—a crown. Ahem, Mel likes pointy things at the end of a hilt in her hand, NOT on her head!
Meanwhile, very pregnant and put out by her ongoing role at Dahlquist castle, Aerith is prepared to do whatever it takes to save her sister and leave Faerie for good. Liri has other ideas. Too bad the Fae-hole abandoned his kingdom. Aerith is in charge now, and if Liri doesn't return soon, she'll crown a new king.
The final battle between the two Elmray families is about to begin. It's a good thing Dahlquist has elves on its side.
Will the cost of winning be too great?
Amazon US | Amazon INT | Goodreads
Audiobook: Apple | Google Play | scribd
---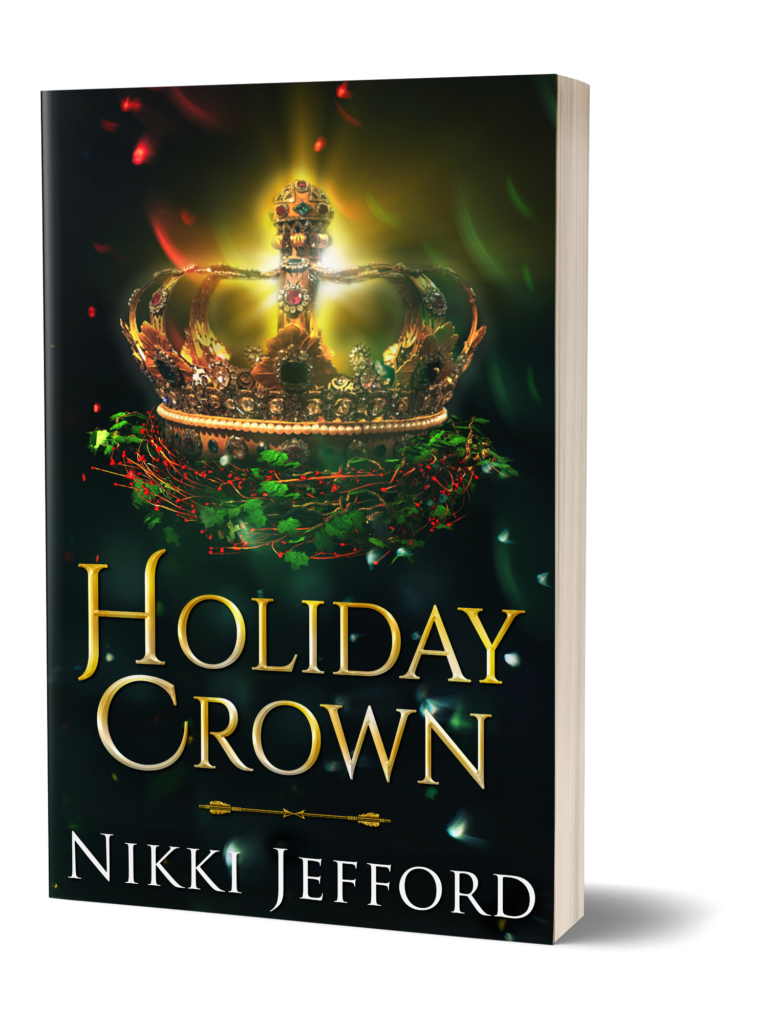 HOLIDAY CROWN (Book 4)
Dahlquist is brimming with gifts and good cheer. While King Liri spends the holidays with his queen in the mortal realm, it's up to a certain elf and her brood to rule.
It's all fun and fa-la-las at the castle—until the holidays turn into a deadly game of hide-and-seek.
While some of the family is getting naughty, others are hunting down an escaped prisoner who isn't playing nice. Meanwhile, will a wish for a future bundle wrapped in pink come true?
This holiday you're invited to come deck the halls of Dahlquist.